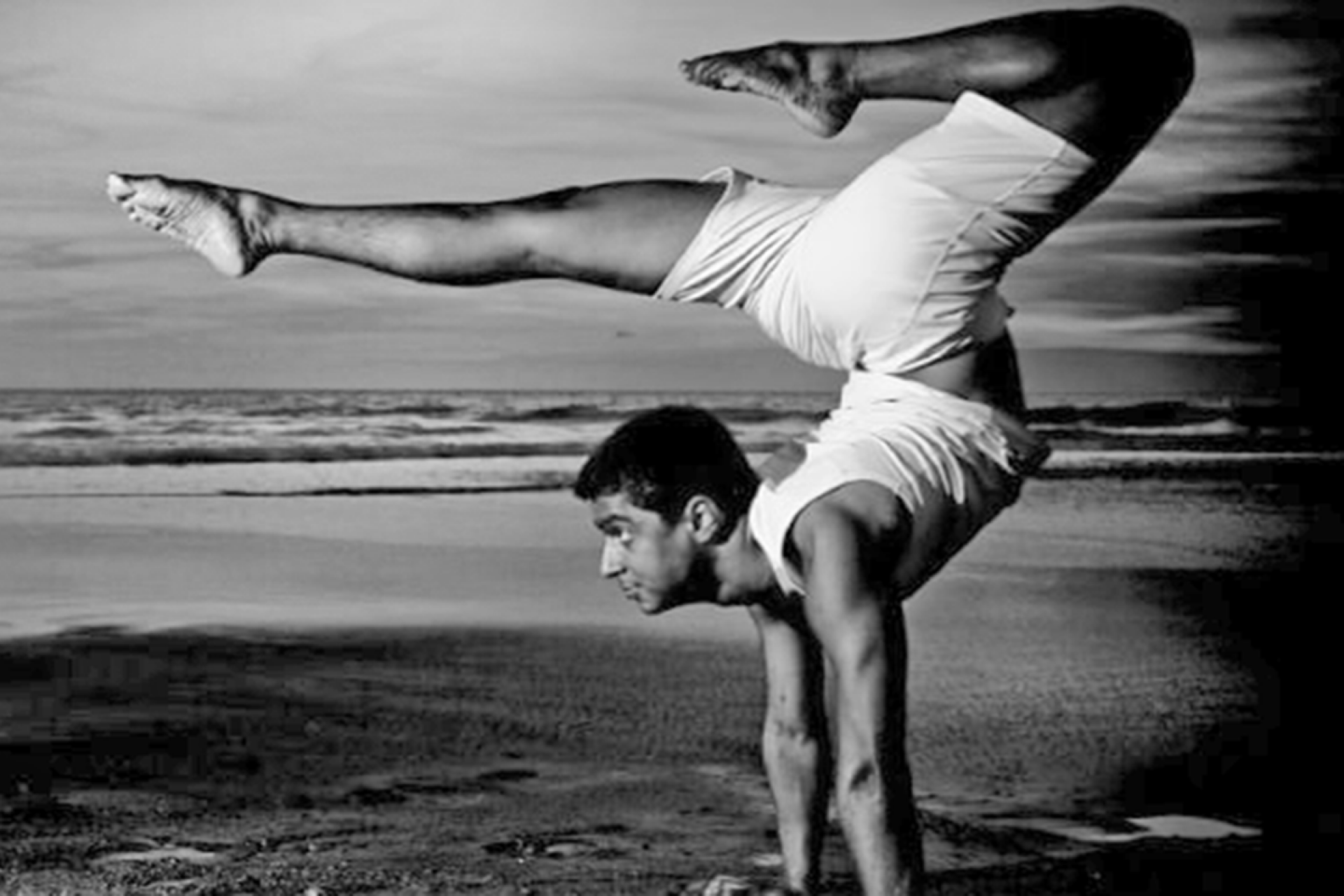 WHAT AGE DID YOU START YOUR YOGA JOURNEY AND WHY?
My Father started his yoga journey during the mid 20th Century in India. During that time, yoga was taught by and taught to the elites only as well as those who belonged to the Braham's caste, which is the highest in the caste system and accounts for about 5% of the Indian population. The access and benefits of yoga were therefore not available to the majority of the people. One common myth during that time was yoga can only be practised by adults and those seeking spiritual enlightenment.
My Father started studying yoga himself and self-practised before he met Guruji (Teacher), who was willing share his knowledge with him. He made his life's mission was to bring the benefits of yoga to the common man. As a yoga practitioner, he was keen to assess how the practice of yoga can be adapted for various age groups as well as different body conditions and mindsets. That was how my yoga journey began, at the age of two.

Many people actually thought it would be harmful for a two year old to start practising yoga. Some thought I would grow up with deformed limbs, become a midget or even die early. However, my Father and Guruji were able to tailor make yoga to a child's physical and mental state and was a fascinating start to my yoga journey.
WHAT INSPIRED YOU TO PURSUE YOGA AS A FULL-TIME CAREER?
Growing up watching my Father and Mother adapt to the principles of yoga to help people heal years of pain and discomfort through simple yogic practices is what inspired me to pursue yoga as a passionate career so I can help enrich people's lives.

Some people do not immediately think of yoga to obtain physical or mental well-being. However, once they experience its benefits, they will embark on a yoga journey which will last a lifetime. Yoga is definitely a practice which positively benefits on people's quality of life.
CONGRATULATIONS ON JOINING THE GEN T TATLER LIST FOR 2019. HOW DO YOU FEEL AND HOW WILL YOU USE YOUR VOICE AND PRACTICE TO INSPIRE OTHERS?
I strongly believe the honour of joining the Gent T Tatler list is a collective effort of all the people who have supported me and continue to support my passion for yoga. The people who have played a key role are my Father and Guruji for sharing their in-depth knowledge of yoga with me since my youth. My late Mother who was a keen yoga practitioner, wife Anna who help to manage the business, as well as her active support of the NGO I founded called Andiappan Yoga Community.

Joining the Gent T list not only motivates me but many of my peers who came from India and teach yoga in different parts of the world. This also enhances the recognition of yoga amongst the wellness industry professionals. I will take this opportunity to actively collaborate with more groups to raise awareness on the benefits of yoga.
HOW DO YOU SEE YOGA IN HK AND ASIA AND HOW COULD YOU CONTRIBUTE TO HELP INCREASE THE INFLUENCE AND AWARENESS OF YOGA IN THESE CITIES?
Yoga is very dynamic in Hong Kong with styles fading over time such as yoga dance, yoga combat and partner yoga. New styles continue to be popular but only for a short while.

As people become regular yoga practitioners, they will begin to understand yoga is more than just an exercise, but more of a practice to control the body and the mind. People will appreciate the importance of the safety aspect of their yoga practice.

My approach to teaching yoga is a practical one. I would tailor make different yoga sequence to suit the needs and limitations of different people's body and mind.

When I travel various cities across Asia to teach workshops at conferences, people are usually fascinated by my approach to teaching yoga. The common feedback is "I never thought yoga can be practised this way!"

I always tell the students attending my Teacher Training course about the common misconceptions of yoga, such as all asanas much be perfect to gain the full benefits. I would strongly recommend students to practise both yin and yang based approach to create body and mind balance.

In the future, I would like to help ensure yoga be taught as part of the syllabus in school, colleges and universities. With such technological advancement, my mission is to use these tools to introduce the practice of yoga to everyone in a simple and effective way. This will hopefully better equip the future generation face challenges such as reduced mobility with the increased use of computers, stress and increased depression.
CAN YOU TELL US MORE ABOUT THE ANDIAPPAN YOGA COMMUNITY AND WHAT YOUR AIM IS? (FEEL FREE TO SHARE ONE OF YOUR MOST MEMORABLE MOMENTS)
Andiappan Yoga Community (AYC) is an inspiration for community outreach, similar to what my Father dedicated most of his life to achieve. I recall spending my school holidays traveling with my Father providing free yoga awareness programs in village schools when I was young.

Yoga in Hong Kong and in the West is viewed predominantly as a sport, a type of fitness regime and one which is currently trendy and cool as it is celebrity driven. Many people do not have access to yoga classes taught by qualified and experienced yoga teachers.

I founded the Andiappan Yoga Community in Hong Kong to reach out to different pocket of the community, especially those who cannot afford a yoga class, people with special needs and those who are the disadvantaged. Our aim is to continue to grow the community outreach to help as many people as possible.

There are two very recent memorable moments I would like to share. One is the Elderly program for Lok Sin Tong, where students as old as late 80's come to the yoga therapy. This really motivates our volunteers and I to continue with this group. It proves it is never too late to start yoga as long as it is tailor made for them.

The second memorable event I would like to share is the pain management program at the Queen Elizabeth hospital. At the end of every program, we would ask patients for their feedbacks. One elderly student who had severe back and neck pain told us she was in so much pain and misery for years she was always crying in pain. She had acute limitations in her body where simple poses and breathing techniques are challenging and she actually thought she would never recover from this. As she was sharing this, she cried but said now these are happy tears of joy because her pain is gone. She said after the yoga practise, she can move freely without pain and said she wishes to have access to this practise regularly in future.

I also remember, my father used to teach yoga and meditation for inmates in jail at India. He recruits some of them train them as yoga teachers and provide a yoga teaching job at our franchisee yoga schools. This reminds me when people are given an opportunity to change their lives positively they do make a sincere effort. Hence, our aim is to continue to grow the Andiappan Yoga Community outreach to help as many people as possible.
WHAT'S NEXT FOR YOU - WHAT IS YOUR NEXT YOGA GOAL?
My next goal is to promote the therapeutic benefits of yoga among the medical and paramedical professionals. I believe Yoga Therapy is the future of yoga. Modern science can help shape collaborative studies and research on the benefits of yoga as a holistic treatment on health.

My Father was able to lobby for yoga to be a mandatory part of the medical syllabus in India. With increased awareness within the medical professional regarding yogic science, there will be increased acceptance that various health conditions can be improved with simple lifestyle changes, daily practise of some asanas, breathing and meditation. Just as physiotherapy and psychotherapy have been adopted as complimentary treatments in hospitals. Yoga is also an effective therapy for children with special needs as well as the elderly.

I have set up a yoga academy which runs yoga teacher training courses from beginners to advanced practitioners, a monthly yoga journey distributed across Asia and a successful yoga business, what is missing at the moment is a comprehensive portal which documents the evolution of yoga. It would be an online platform of yoga resource, similar to an encyclopaedia where different yoga traditions and lineages are included, all asanas (yoga poses) available today are documented. There are so many types of yoga today and most people have no idea about their history, why these styles exist or begin to understand which style is suitable for them.
HOW HAS YOGA CHANGED YOU MENTALLY, PHYSICALLY AND SPIRITUALLY?
For me, the experience of yoga cannot be separated. The ability to adapt to different situations is where I see the influence of my yoga practise. If yoga only improves one's physical flexibility but not their mental flexibility, then there is no balance.

I believe yoga is a state of mind and a form of lifestyle. My yoga practise gives me a sense of balance in my thoughts, actions and emotions. When one is aware of themselves and their surroundings, they will understand their role in this life and will enjoy their life with the balance of giving and receiving.
WHAT EXERCISES WOULD YOU SUGGEST FOR OUR RIDERS TO DO ON A DAILY BASIS TO ASSIST WITH THEIR RIDING?
While yoga is beneficial for improving your performance in different sports, it offers much more.

For Riders, it is important to start with an analysis of the overall body alignment and see whether there are any physical conditions which need to be addressed. For Riders who wish to improve their energy and stamina, I recommend the deep diaphragm breathing to improve their cardio function with the practise of Agni Sara

In terms of stretching exercises, I would recommend hip flexors stretch such as the equestrian pose, supine diamond pose. For the hamstrings and calve muscle stretches, the mountain pose and half forward fold would help. Lastly, to improve the back and to prevent back conditions, the Tiger pose and the Supine leg extended twisting would help. Also remember to connect the movements with proper breathing.
WHAT TIPS WOULD YOU HAVE FOR PEOPLE WHO ARE EXPLORING YOGA?
I would recommend for anyone new to yoga to talk directly with an experienced yoga master, experience and knowledge being key and not anyone else such as a sales person. Let the teacher recommend yoga classes which are suitable to your body condition and lifestyle at the time.

For complete beginners, especially those with physical conditions, I would recommend taking a few private classes with an experienced teacher to learn the basics and the modifications which suit your condition.

Try not to judge a teacher's expertise based on their physical skills in yoga poses or their social media followers. Best not to start your yoga journey watching online videos or from reading books. Last but not least, people who are inflexible need yoga more than those who are already flexible and not the other way around.
WHAT IS THE BEST ADVICE YOU CAN GIVE/ WHAT MOTTO DO YOU LIVE BY?
To create a balance in life. People call me Yogi. I would not want to be a Yogi living in an Ashram on my own, in a protected serene atmosphere meditating my way to enlightenment or death. Everyone has a responsibility and a role to play in this life. If one understands and are aware of their thoughts, actions, and emotions, one can always find peace and calmness anywhere and anytime.